Thank you again for another amazing summer of theater and friendship in Maine. We hope you are enjoying your September as the start of the school year and Fall auditions begin! This month's newsletter has some important information about 2017 registration, the early bird discount, and much more.
EARLY BIRD DISCOUNT & REGISTRATION
Registration for the 2017 summer is now open!! In order to take advantage of the $150 Early Bird Discount, you must register by October 15.  Don't worry, you can switch sessions later in the year if you are not sure or even add a second session.  You don't have to make the full commitment to camp now, only a $300 deposit is required to lock down your discount. Register Now!
When you register online, you'll be asked to login to our new database software. Use your email address as your login information. A temporary password will be sent to you in a separate email. Once you are logged in, you'll be able to register, access important camp forms and information, and review your balance. We love this new system and think it will make registration and communication easier! Email us with questions: mailbox@actingmanitou.com
---
A VERY EXCITING INTRODUCTION
We are beyond thrilled to announce that Lesley Levy has joined the Acting Manitou team for both the off-season and the summer. Lesley brings with her a wealth of knowledge and expertise and we are lucky to have her. As our new Associate Director, Lesley will be working in the office reaching out to you about the 2017 summer and getting to know each of our campers and families. You can reach her at lesley@actingmanitou.com. At camp one of her many responsibilities will be that of 'Camp Mom!' Here's a bit more about Lesley in her own words:
"I am thrilled to be joining the Acting Manitou family and I'm already counting the days until the summer of 2017 begins! I love camp. I have been fortunate to have spent many of my summers at camp. My first few summers were as the toddler of a camp doctor. Finally at age 7, I was old enough to attend overnight camp myself. In college, I was a counselor and unit leader; and most recently I have spent the last 9 summers living at Camp Manitou for Boys (right next door to Acting Manitou!) where my husband has worked as the Instructional Coordinator. Some of my favorite memories as a camper include swimming across the lake to the island (and back!), hiking a few of the "Presidential Mountains" in New Hampshire,  playing capture the flag, and sharing the part of Tinkerbell with my twin sister (we alternated scenes) in the camp's production of "Peter Pan" as a stage-shy 7 year old.
Now, my husband Josh and I have three children (ages 13, 10 and 7) who attend overnight camps in Maine. Each summer, I cry a little when I drop them off at their respective camps. My tears are not because I will miss them (of course, I do miss them immensely every summer), they are tears of joy because camp was absolutely a defining part of my childhood and I am so delighted that my own children get to experience overnight summer camp, too. It may sound cliche, but there is truly no other experience that compares to overnight camp and I feel so lucky to now work at Acting Manitou! When we're not at camp, our home is in Brunswick, Maine."
2016 DVDS, PHOTOS, and AM365
DVDs from this past summer's show will be mailed out by the end of the month! It's not too late to order additional DVDs. Email us to place an order. In the meantime, check out the updated production photos for some fantastic pictures. Another great place to see photos is our BLOG! Starting soon we'll be posting our famous Guest Blogger Blogs from staff members - stay tuned. And as always if you're in a show or have exciting news to share with the AM community let us know and we'll blog about! mailbox@actingmanitou.com
---
ACTING MANITOU SCHOLARSHIP FOUNDATION
Huge thanks to all who donated to our scholarship foundation on show day this summer - thanks to you we raised almost $16,000 to use towards scholarships. This is a tremendous start to our fundraising season.  Please consider helping us reach our goal of $40,000, we'd be very grateful! Every dollar raised goes towards tuition for campers in need of financial assistance.
To donate now in support of scholarships for 2017, click the button below.  It takes only 2 minutes to donate through Paypal.  All contributions to AMSF are 100% tax deductible.
---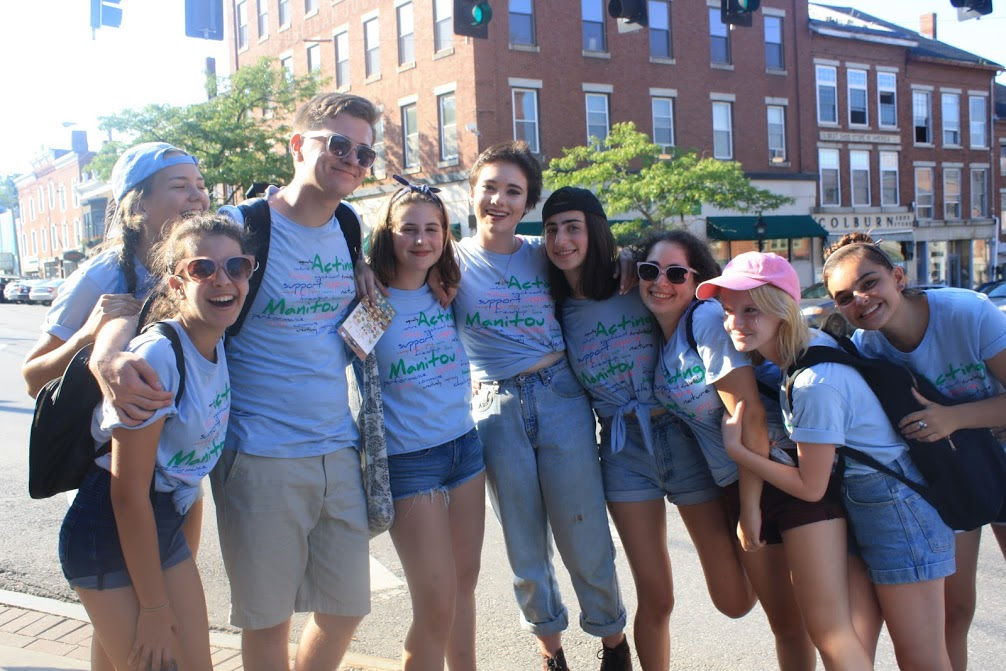 ACTING MANITOU DAY -
OCTOBER 15th
Mark your calendars! #AMDAY16 is coming up. Wear your AM gear, post photos, win prizes! More information coming soon!
FEEDBACK? SHOW IDEAS?
Please email us any feedback you have so that we can make Acting Manitou 2017 the best it can be!  steve@actingmanitou.com
---